As I mentioned in a previous post Peanut turned one last month! How it happened is beyond me but we celebrated her special day yesterday. I love to plan parties  and throw them. I was raised in a house where Birthday Parties were always a big to do. So I am going to blame my parents for my obsession with the 'perfect party'.
I decided a few months ago that we were going to have an owl them for Peanut. She is still too little to really have any true likes. She isn't in to TV or any certain characters. So I took the liberty of planning her a super special Owl party!
I found a great location at a local community center which worked GREAT! There was a cute Barn in the room and the walls were painted in a barn motif too! The best part it was reasonable in price and would be safe for Peanut. I was afraid of having her party at some other popular locations because she might get smushed since she is such a peanut!
It all started with a Google search.. Owl Invitations. The images were endless, but I came up with this super cute one! I called my super crafty sister and asked her if I thought we could come up with something similar.
On the back were all the juicy details! As I mentioned in an earlier post we offer a donation suggestion in Lieu of Gifts. This year we chose The Pajama Program. I included these details on the bottom of the party information section with the needs of the Pajama Program.
I looked a ton of Owl Themed plates but decided on these cute plates from Celebrate Express. I ordered the dessert  plates and a couple of Balloons to match. I used light blue table cloths, bright pink plates, green and orange cups, and purple silverware.
I decided on a party during lunch time. Peanut usually is awake and happy during this time which is key for a one year old. This meant we needed to plan a meal. I thought about pizza but decided I would make it easier on some friends who have a dairy allergy. So I made a make your own sandwich buffet! It went over very well
It was really easy to do and a great non-pizza option.
We did two crafts at the party! Since Peanut has an older sister I figured that would keep her and her friends busy. They love crafts and all go to preschool. I found this great paper bag owl craft online. She had templates which were AWESOME! So definitely check her out. I used craft paper that I had in my scrapbook stash which made things cheaper. I grabbed some paper bags at the dollar store and the kids really enjoyed it.
The second craft my friend Jennifer from Mosk Momma found at JoAnn Fabrics. During Christmas time they had wood ornaments that could be painted or colored. I got them for a STEAL… Less than .50 a piece. Each kiddo got to make their own. They used good old crayola markers. Here is a picture of Peanut working on her Owl with some help
Now I have a love for cupcakes if you haven't noticed from reading this blog. So I will be doing a separate post on them soon! However, I will give you a peek at how cute they were! It was my first time dabbling with Marshmallow Fondant and I think you will see more soon. It wasn't as awful to work with as I thought it might be. I made homemade Funfetti cupcakes that were pretty tasty and so  easy to make.
The cute owl on the right was a mouse pad in the dollar bin at Target!!!
A sweet friend made Peanut's Smash cake. She totally rocks! It was adorable and Peanut did a fantastic job smashing it to pieces
Here is the smash cake…
The last detail from the party was the Party favors. I really  wanted to find something that was owl-y and usable. Every kid loves favors but they are usually expensive cheap toys. That is they work out to be about $5-$10 a kid and are toys that don't last long once they go home. I spent HOURS looking for something and came up with crayon tote bags. Sue from SewnJust4U made my life so much easier! She made the process painless and her work is amazing!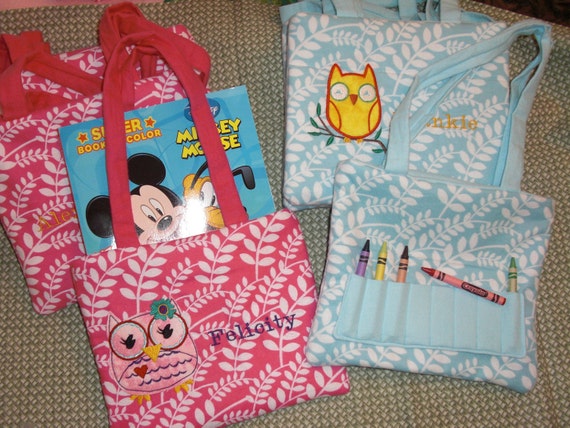 I made a cute little coloring book with Owl images I found online and included it.
We had 3 bitty ones at the party and my AWESOME sister made cute owl crinkle taggies for them!
Inside the crayon totes were these treat bags. I was pretty proud of myself because I was able to recreate the owl face on my own!
As you can see in the photo above I gave the little one cereal instead of gummy bears.
So there you have it… the ins and outs of Miss Peanut's first birthday party! She had a wonderful time, we collected a ton of donations (more on this to come) and everyone seemed to leave with a smile  on their face. I call that a success!